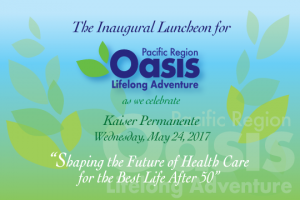 Oasis invites you to celebrate health and wellness with our inaugural luncheon!
We welcome Area Medical Director Dr. Howard J. Fullman, Area Medical Director of the Kaiser Permanente Western Region, as our keynote speaker on the subject "Shaping the Future of Health Care for the Best Life after 50."
The event will be held at the Doubletree Hilton Hotel, Pacifica Room B at 6161 West Centinela Ave., Culver City, CA 90230 on Wednesday, May 24 at 11:30AM. Tickets are $100 per person, part of which is tax deductible.
We look forward to seeing you there!