"Every year, I write a Christmas letter to send out to friends and family and tell them about all the things I'm doing," says Pat Terrell. "Everyone looks forward to my letters. They say, 'You're doing so much!' Most of what I'm doing is through Oasis."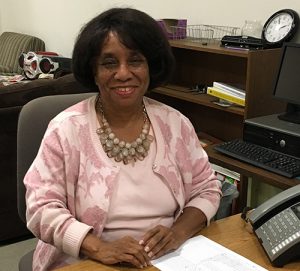 Pat comes to the Oasis in Baldwin Hills, California four to five days a week, where she volunteers, takes classes and keeps herself in good physical shape with any number of exercise classes. She is embracing the very essence of what makes Oasis a pioneer in the field of healthy aging. It's a three-fold approach that offers a path to staying active and socially engaged: lifelong learning, healthy lifestyles and volunteer engagement.
"Some people who are retired just stay home," says Pat. "Then isolation and depression can set in. With Oasis, that doesn't happen. There is always something to do."
Giving it a try
Pat learned about Oasis from her mother, with whom she tagged along for many group trips. She could see how getting involved helped, as her mom adjusted to life as a widow.
"My mother needed to reinvent herself. Oasis helped her do this over time," she says.
Pat knew that when the time came, she would also give Oasis a try. In 2009, she retired from teaching preschool for 40 years. It was a job she loved, but she was ready for something different.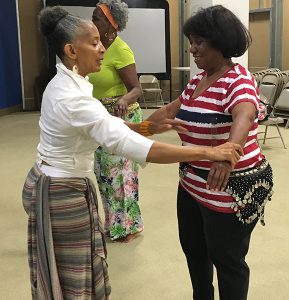 "Almost everything I did when I was working revolved around work," says Pat. "I'm just as busy now, but it's a different busy. I make my own hours and my own time."
With Oasis, Pat isn't simply filling time. She's clear about that. She's exploring. It's a luxury she simply didn't have the time to indulge until she retired.
"Even when you're in college, you can't take all the neat classes you want because you have to get credits to graduate for your major. Now I can do whatever I find interesting. There are so many classes in the catalog, it's hard to pick," she says.
Her exploration list is long: genealogy, floral arranging, current events, jewelry-making, calligraphy, acting, cooking, fraud prevention, scrapbooking and many more. She's tried quite a few classes to keep her moving, too: Pilates and yoga, and dancing of all kinds: Latin Shapes, swing and line.
"When you exercise, it helps a lot," says Pat. "I'm more flexible and it's really satisfying to keep moving."
Giving back and bringing others
Pat takes a lot from Oasis, but she's also giving and she seems to enjoy that just as much.
She volunteers at the front desk, where she greets the regulars and newcomers, helps with registration and handing out catalogs. She also helps throughout the center working on bulletin boards, decorating for special events and anything else she's asked to do.
A recent study of Oasis participants showed that people like Pat, who both take classes and volunteer, gain more value from Oasis.
"None of my volunteering feels like work," she says. "If you volunteer, you gain more insight as to the inner workings of Oasis and you will most likely make more friends because you share something in common. I've made some good friends. And some of the people I've met have led such fascinating lives."
Pat is always ready to bring someone new on board.
"I talk Oasis up all the time," she says. "Oasis gives you a chance to explore a whole other life that you might not know about. You won't be bored!
Pat is featured in the 2015 Oasis Annual Report
Visit Oasis in Los Angeles