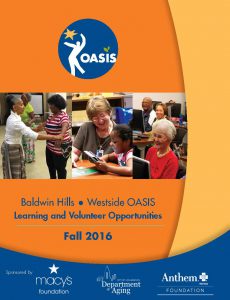 Fall 2016 at Oasis will be full of fun, new classes, as well as your favorite classics. Whether you are a new or returning member, Oasis has you covered. See our Fall 2016 catalog!
The Fall semester begins Monday, September 12, and continue through Friday, December 16, with the annual Oasis Holiday Party.
Early online registration will be from 10:00AM on Thursday, September 1 to 4:00PM Friday, September 2.
In-person registration will be:
Tuesday, September 6 from 10:00AM-2:00PM at Baldwin Hills

Thursday, September 8 from 10:00AM-2:00PM at Westside Pavilion.
Online registration will resume Friday, September 9 at 10:00AM.
Learn more about How to Register online.