Join Oasis as we embark on a new year with a whole new look! This fresh logo represents our commitment to giving adults opportunities to age well with our three program areas: health and wellness, lifelong learning, and civic engagement. Make sure to register and be involved in all three areas to stay vibrant, healthy, and active!
Register for classes online anytime.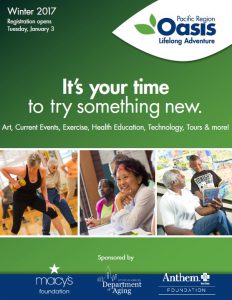 See the Winter/Spring 2017 catalog
The Winter/Spring 2017 semester begins Monday, January 9 and ends Friday, April 14.
In-person registration will be:
Baldwin Hills: Tuesday, January 3, 10 am to 2 pm

Westside Pavilion: Thursday, January 5, 10 am to 2 pm
Online Registration resumes Friday, January 6.